Transport services and transfers for sporting events in Majorca
A holiday in Majorca is the perfect option for sports fans. In addition to having an ideal landscape for outdoor activities and adventure, such as climbing, psychobloc, coasteering or diving, the largest Balearic island also has a long tradition of clubs, schools and sports institutions. From RCD Mallorca to the Rafa Nadal Academy by Movistar tennis school, as well as more than twenty golf courses, the options are endless. And so that transfers for the people attending and organizing it are never an issue, ROIG Bus offers a complete transport service for transfers for sporting events in Majorca.
ROIG is the only company that offers a comprehensive road passenger service in Majorca. An added value from which not only athletes can benefit, but also all those people, clubs and entities that wish to attend a sporting event – or take part in it – or encourage their team or their favorite athlete in their trips to the island.
To attend to your needs, ROIG has a complete fleet of vehicles of up to 80 seats, renewed and that fits all budgets and demands, as well as professionals prepared to handle transfers and provide close, effective, efficient and immediate service.
Transfers to golf courses in Majorca
Majorca has 23 first-class golf courses, designed, in some cases, by famous architects such as Jack Nicklaus, John D. Harris or Robert Trent Jones. For all those who wish to improve their swing, ROIG provides the transfer from the hotel or the place of residence to any of the main golf courses in Majorca, such as the Vall d'Or Club, in Portocolom, or the Pula Golf Resort, in Son Servera.
In addition, we also have a guide service for groups in any language, such as English, German, French or Italian.
For a holiday in Majorca for even more complete sporting reasons, we also organize bus trips around Majorca.
Transfers for schools and summer camps
In ROIG, we believe in new sporting talent and their families. Therefore, and so that they can concentrate on what really matters, we carry out all their road transfers. One of the prestigious institutions that already trust us is the Rafa Nadal Academy by Movistar tennis school. In this case, we carry out the transfers of the students during their summer camps to the points where children and teenagers carry out various outdoor activities, such as paintball or paddle surf, among other water sports on the beach. We also take the future tennis stars from Palma airport to Manacor, where the school is, and vice versa.
Among our clients, there are also tour operators and companies specializing in summer campuses and study trips. ROIG collaborates with them by transferring visitors from the airport to the different camps in Majorca, such as the Hippocampus, in Cales de Mallorca, or Victoria, in Alcúdia..
In relation to the latter town, it should be noted that this municipality hosts every May the most demanding triathlon competition: the Ironman 70.3 Alcúdia-Mallorca, a very tough challenge in which the participating athletes must cover 3.86 km swimming in open water, 180 km by bike and 42.2 km of running (marathon) on a time limit of 17 hours and without rest. In ROIG, we handle the transport of athletes, both for training and the day of the test.
Coach transfers for football matches
One of the sporting entities on the island with more roots is RCD Mallorca, a centennial football club – founded in 1916 – that returned to the First Division of the Spanish League in the 2019-2020 season. This has increased the number of fans who want to enjoy the Majorcan team's matches in the Son Moix stadium. And in ROIG, we want to help the rojilla fans vibrate with their team's goals. With our bus rental service in Majorca, we take care of the transport of the Mallorcanist rocks of the Balearic Islands and other regions, and, at the end of the meeting, to take them back to the point of origin.
We also facilitate transfers for visiting teams. In addition to offering transfers from Palma de Mallorca airport to your hotel, we will take you to the stadium on game day and, at the end, back to the hotel.
Our coach transfer options for football matches do not end here, as we can organize transport for groups of fans or clubs of visiting teams, so that newcomers only have to worry about supporting their team. For an even more exclusive experience, ROIG has luxury coaches in Majorca, with VIP services and all the amenities, so that the road trip is unbeatable.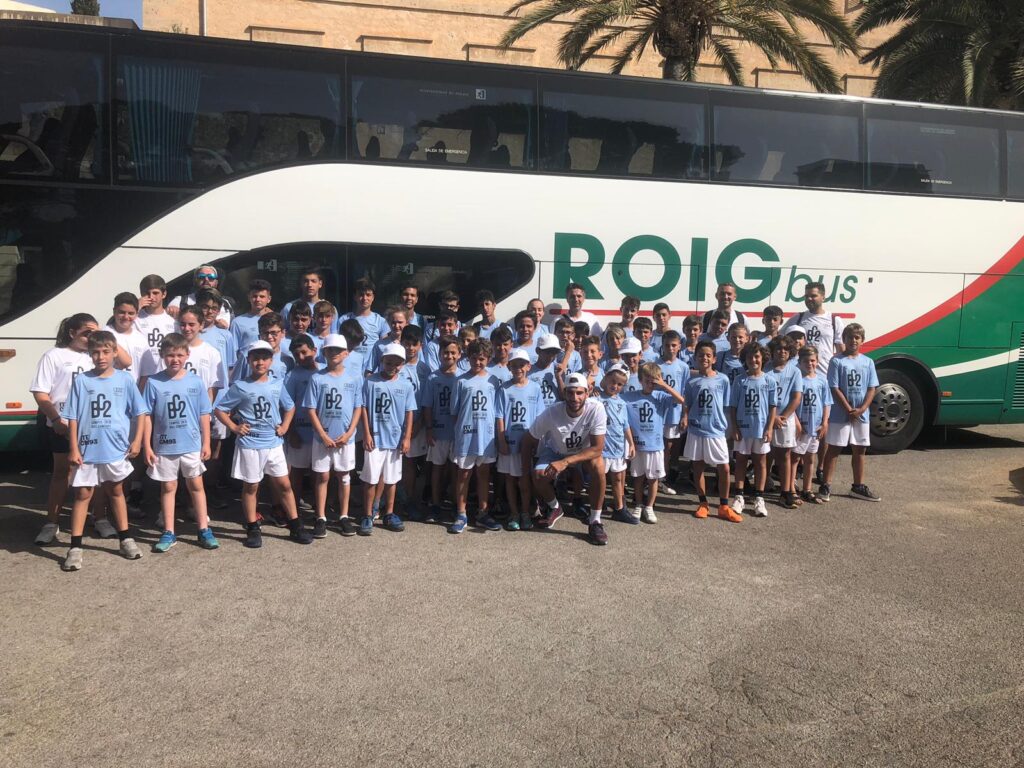 Discover
Mallorca
Plan your trip around Mallorca with our interactive guide. We know our island well and will be delighted to show you the best routes, beaches and scenery so you can explore the island and enjoy it as much as we do.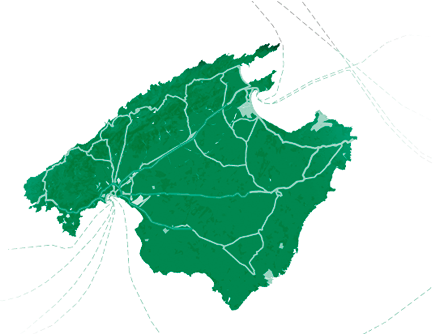 Do you want even more? If so, and if you are thinking about taking trips around Majorca, you will like to know that we collaborate with a travel agency, ideal for those who only want to dedicate themselves to enjoying their holidays in the Balearic Islands. Palma de Mallorca, the Drach Caves, Alcúdia, Sóller, the Tramuntana mountain range, Andratx… You choose!
Also, to be even closer to you, we have various offices, located at Majorca airport and at the main tourist points of the island: Cala d'Or, Santanyí, Portocolom (or Porto Colom) and Cales de Mallorca.
Book your transport service for sporting events in Majorca
If you want to know more about our services for sporting events in Majorca, do not hesitate to contact us. You can call us at (+34) 971 65 71 73, from 08:00 a.m. to 8:00 p.m. without interruption, or send us an email to the following address: info@roig.com. Our team will be happy to assist you, guide you and answer your questions, so that transfers for events in Majorca are made easy for you.