DestacadoflotaTransfer2022EN
ProtocolosdeHigieneyLimpieza_2600x762EN
Cancelaciongratuita_2600x762EN
Taxi Service in Portopetro
If you are looking for a taxi to make your transfer from Palma airport to Portopetro, Roig is the solution. With our renewed fleet you can reach your destination avoiding queues, without car sharing and without hidden costs. Roig's experience in the transport business dates back to the 50s, so we take special care of both our trade and our customers.
Hire a taxi by the hour if you need to visit several places on the island. Our driver will wait for you at the door at the agreed time to take you back to Portopetro, the airport or any other destination. And if you want a luxury trip, you can check our Premium service, which includes high-end cars with a driver that will provide the most exquisite treatment. With our taxi service in Portopetro, you choose!
What to see in Portopetro
Portopetro is a destination for those who are looking for a quiet holiday, away from the big tourist areas. Walking through the small port of the town, you can see some of the typical Majorcan boats used in the past for fishing called llaüts and have a drink in one of the chill-out bars in the area.
Continuing south along the coast, you will finally reach the tip of Sa Torre, where the Portopetro tower is located, an old seventeenth-century building that was used during the war of succession and that housed a customs office until the 19th century. The views from this point are not the only ones that will leave you breathless, as the walk to this point is already a reason to visit this landmark.
You should not miss Cala Figuera, a beautiful natural harbour where a small town was built in the 19th century. This small fishing village does not have a beach to sunbathe, but you can dive with the fish and discover the immensities of the seabed in the area.
Of course, one of the biggest attractions of the area are its beaches and secluded coves that preserve the natural charm of the Mediterranean. To start with, Caló de Sa Barca Trencada is a small cove surrounded by pine trees, forming a kind of clear water pool that invites you to bathe with just stepping on it. If you are visiting the Natural Park of Mondragó, the cove of the same name is a stop that you should not miss. With a protected environment, this enclave has showers, toilets and access by car without losing a bit of its natural beauty. Right next to the previous one is the S'Amarador beach, another privileged corner that can only be reached by car or boat. It is the perfect place to kayak or snorkel thanks to its calm waters.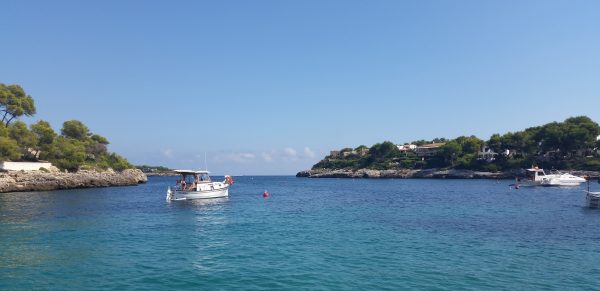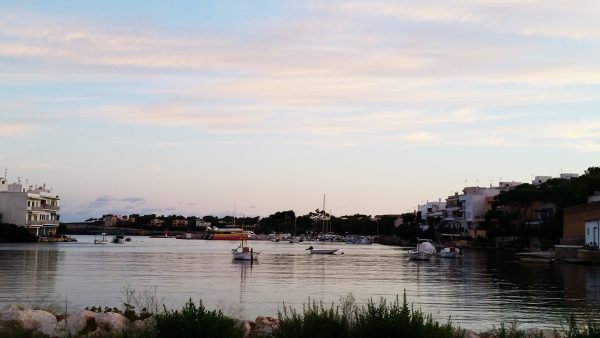 Discover our advantages
If you are planning to travel to Majorca and you are looking for a taxi company, then you are in the right place. Discover the benefits of choosing one of our options:
• We renew our fleet every season. Safety and comfort are two aspects which are very important to us. For this reason, we offer you cars which are renewed year after year, with the best brands and the latest technology, so that your journeys by road are even more comfortable.
• Taxi transfers all over Majorca. We are fully aware that Majorca is perfect for losing yourself in. Whether that be in a secluded cove surrounded by cliffs or on the footpaths crossing the Sierra de Llevant, which are perfect for cycling through Majorca. Any corner of the island will give you the perfect alibi for an unforgettable weekend getaway. This is the reason why we offer you transfers throughout Majorca. Just let us know what you need and we will take care of everything else.
• Payment via credit card or bank transfer. We want to make things easy for you, so that during your stay in Majorca you only have to worry about enjoying yourself. With us, you decide if you want to pay by credit card or by bank transfer.
• Free cancelation of your booking. We all suffer setbacks from time to time, or simply change our minds and plans. If you find yourself in this situation, you can cancel your reservation without any fees or charges.
• Experts in comprehensive transport since 1953. We are not only the leading passenger road transport company in Majorca. We also guarantee a service of the highest quality, so that your holidays in the Balearic Islands be truly unique.
Discover
Mallorca
Plan your trip around Mallorca with our interactive guide. We know our island well and will be delighted to show you the best routes, beaches and scenery so you can explore the island and enjoy it as much as we do.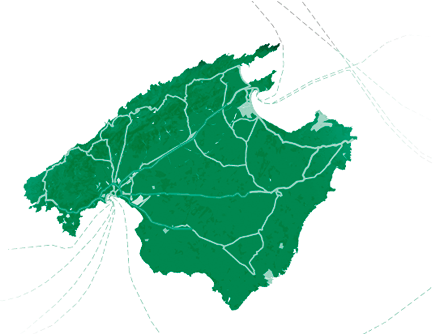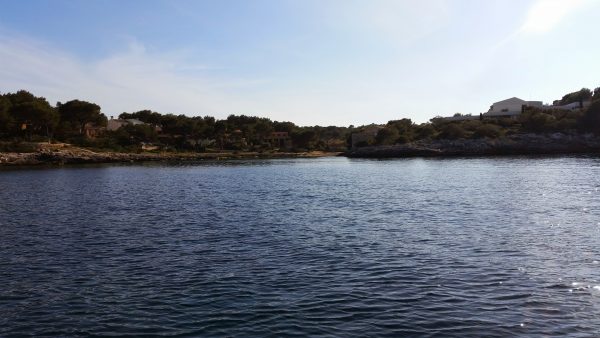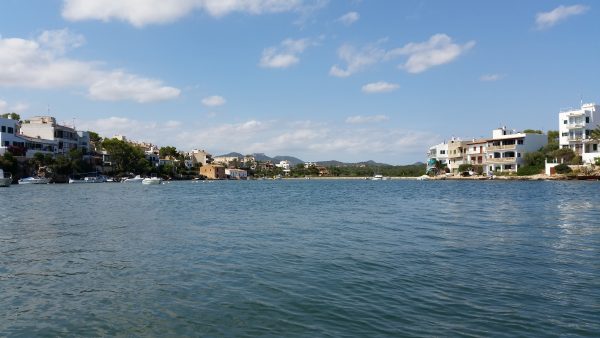 What to do in Portopetro
If you need ideas to spend a day full of activities in Portopetro, here you will find suggestions for all tastes.
To begin with, golf lovers will have several greens to choose from, as it is one of the areas with the most clubs in Mallorca. Spend a day practicing your swing in any of the golf courses of Andratx, Alcanada or in the Vall d'Or Golf.
A good idea is to rent a boat in the port of Portopetro to discover the most beautiful and secluded coves in the area from the sea. If you prefer to explore on foot, we recommend a hiking trip across the Mondragó Natural Park. This protected area of 700 hectares has a very diverse ornithological fauna. Apart from the beautiful natural coves of the area, we also highlight the pine forests, wild olive trees and the most surprising flora, among which we find the delicate orchids and holm oaks.
You also have the option of using our taxi in Portopetro to move outside the vicinity of the town. One of our recommendations is the visit to the castle of Santueri, in Felanitx. Located at the top of the Levante mountains, this fortification was built in the 14th century on the runes of an Arab castle. It was used for defence for years until it fell into disuse. Enjoy the great views of the castle and take advantage of some of the hiking trails that start from this point.
Now that you know a little more about the area, do not forget that Roig's taxi service in Portopetro is at your complete disposal, either for your transfer to Palma airport without rushing or to take you wherever you want, with all the comfort and punctuality that you deserve.