DestacadoMSeries2600x762ES
DestacadoROIGTaycanescritorioES
DestacadoservicioEnsaimadas2133x625ES
DestacadoEmpresaECO2600x762PlantaES
Slide
More than 60 years' experience
We are the leaders in passenger transport
Professional, experienced staff
Offering quality and outstanding service
The leaders in quality and service
The leaders in quality and service
A company offering a full range of services
We are the only company to offer the full range of road transport services
Slide
Personalised pick-up services at the airport
You will be met on arrival and accompanied to the coach
You can cancel your reservation at no extra cost!
A company offering a full range of services
We are the only company to offer the full range of road transport services
Live a luxury weekend in Majorca
Majorca is synonymous with culture, charming towns where time seems to have stopped, magnificent beaches and coves hidden between cliffs and lush pine forests … and of course, luxury. High flying tourism is on the rise in this corner of the Balearics. This is demonstrated by the fact that the arrival of private jets has doubled in just seven years, or that the offer of luxury tourism in Majorca is continuously growing.
These options range from 5-star hotels to leisure activities aimed at an audience with high purchasing power, including luxury rental cars. Therefore, Roig also wants to respond to all those travelers who aspire to maximum sophistication and exclusivity during their holidays in Majorca.
We invite you to visit our extensive fleet of vehicles, renewed annually, where you will find high-end models of brands such as Mercedes or Porsche. If you wish, we can also put a chauffeur at your service who will drive you, so you can discover the best kept secrets of the island.
Yes, we have already considered that there are few. Next, we show you some ideas to live a luxury weekend in Majorca.

Mercedes-Benz S
Enjoy Mercedes' hallmark luxury and exclusivity. The design and safety features of this vehicle will ensure you travel in comfort and style during your holiday. 4 passengers;
Relaxing in the best 5-star hotels in Majorca
If you are looking for high-level accommodation, traveling to Majorca is a safe bet. In the largest of the Balearic Islands you will discover hotels that redefine the concept of luxury thanks to its excellent facilities, various details that make the difference and all kinds of attentions: butler and concierge services, pillow menu, gourmet cuisine inspired by the essence of Majorcan recipes …
Some have a luxury spa or thermal area, an ideal place to disconnect from routine and renew from within, as well as in private pools. What's more, there are an increasing number of hotels that boast rooftop or terrace bars from which to enjoy the hypnotic views of the island capital, Palma de Mallorca, or one of the nearly 300 beaches and coves that dot the Majorcan coastline.
The characteristics of these luxury hotels vary depending on the location, but not their quality and comfort. In addition to dream urban hotels, in Majorca you can choose between elegant hotels on the beach and stylish boutique hotels, a term that was coined precisely to refer to the most select Majorcan rural hotels.
Although choosing a luxury accommodation is not an easy task if you take into account the extensive existing offer, it is necessary to book your transfer from Palma airport, either by bus if you plan to travel as a group, or with Roig's luxury taxis in Majorca, featuring a fleet of Mercedes-Benz. In this way, the fastest transfer to your hotel is ensured. There will be no time wasted, since our driver will be waiting for you when your flight arrives. Of course, you can also trust us for the return journey.
Enjoy the best leisure activities in Majorca
Majorca offers endless possibilities for your free time. One of them is to visit one of the emblematic beach clubs of the island, where you can have a drink, dine, dance or simply rest by the Mediterranean and watch the best sunsets. Among the most exclusive clubs, we can mention those of Ponderosa Beach and Puro Beach Palma, where you will find a spa area.
It is just as recommendable to enjoy an afternoon shopping in some of the most exclusive boutiques in Majorca. In Palma, the great reference is the Paseo del Born, which accommodates leading national and international fashion brands such as Carolina Herrera, Hugo Boss and Louis Vuitton. Hence, it is known as the Golden Mile. At the same time, Avenida de Jaume III, another of the main commercial arteries of the Balearic capital, hosts establishments such as Pedro del Hierro, Jayton and Loewe, as well as Cartier's only boutique In Majorca.
You should not overlook the traditional craft shops, where you can buy items as representative of Balearic culture as pearl jewelry, footwear or leather accessories.
Likewise, you can also amaze yourself or others with unique activities, such as private hot air balloon or jet flights. In fact, what better way to surrender to the beauty of Majorca than to see its landscapes from a bird's view?
In any case, it is not necessary to admire the island from the above to fall in love with it. Just get behind the wheel of one of our high-end vehicles or sit comfortably in our luxury buses in Majorca, with VIP services and all the attention you deserve. Thanks to its fleet of premium vehicles, you can explore places such as the Tramuntana mountains, Alcúdia or the Caves of Drach with total freedom.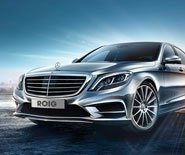 Service
Premium
Find out about our Premium service. Top range cars with chauffeur.
Our
Fleet of Taxis
Check out our fleet of taxis. The latest car models for your comfort and safety.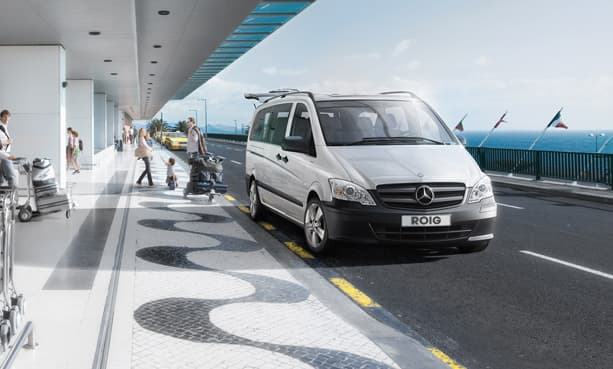 Discover
Mallorca
Plan your trip around Mallorca with our interactive guide. We know our island well and will be delighted to show you the best routes, beaches and scenery so you can explore the island and enjoy it as much as we do.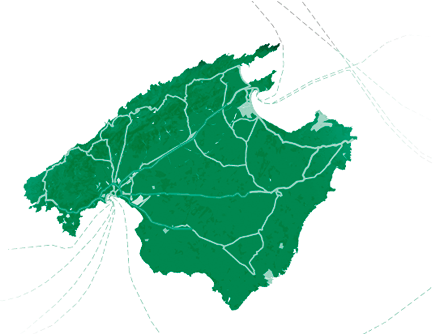 Play golf and sale in a yacht in Majorca
Majorca, home to some of the leading companies in the business worldwide, is the ideal destination for water sports enthusiasts. Proof of this fact, the fair held at the Moll Vell in Palma which brings together more than 200 exhibitors and 200 boats, or the prestigious regattas that take place on the island.
Thus, it is not surprising that this is one of the most popular activities among luxury tourists. Two of the key points for this are Port Adriano, located in the southwest of Majorca, and where concerts and events are also organized and attended by some of the celebrities who spend the summer on the island, or Puerto Portals, where fine-dining restaurants and the most glamorous boutiques open their doors.
On the other hand, do not lose sight of the fact that spending a luxury weekend in Majorca is an absolute dream for golf lovers. No wonder, the island has more than twenty golf courses to improve your putt. Now you can easily access them driving the sports car or convertible of your dreams.
In addition, if you decide to rent your luxury vehicle in Majorca with Roig Premium services, you will benefit from numerous extra benefits at no additional cost.
Need more information? If so, do not hesitate to contact us by calling (+34) 971 65 71 73 from 08:00 a.m. to 8:00 p.m. uninterruptedly, or by sending us an email to info@roig.com. We will be happy to organize a luxury weekend in Majorca that you will always remember.