DestacadoflotaTransfer2022EN
ProtocolosdeHigieneyLimpieza_2600x762EN
Cancelaciongratuita_2600x762EN
Cala Ratjada taxi services
Cala Ratjada is the second most important fishing port in Majorca and one of the main tourist attractions in the northeast of this Balearic island. Located in the municipality of Capdepera, this town will be a hit for a getaway as a couple … or in a group, whether with family, with friends or with your co-workers. In these cases, you have the Cala Ratjada taxi services at your disposal thanks to Roig's minibus and coach rentals.
This solution is ideal for your transfer from Palma airport to Cala Ratjada or any other corner of the Majorcan geography. In addition, we must not lose sight of the fact that this destination has become one of the main options for family tourism in Mallorca, which explains the usefulness of this type of transport.
Depending on the number of people, you can choose a minibus or rental bus with a variable number of seats, with or without a driver. In addition, for occasional trips of a smaller number of people, you also have a taxi service in Majorca to suit your needs. We invite you to discover it.
What to see in Cala Ratjada
There is a lot to see in Cala Ratjada and its surroundings. Although the main attraction of Cala Ratjada lies in the attractiveness of nearby beaches and coves, the town itself also has places of great interest that cannot be missed during your visit to Majorca. In fact, its centre still maintains its traditional character, reinforced by the presence of traditional fishing boats known as llaüt, which aretypical in Majorca.
One of the main attractions of this village is the lighthouse of Cala Ratjada, built in the nineteenth century and located in Punta de Capdepera. Don't forget to visit Sa Torre Cega, one of the favourite residences of Leonor Servera, mother of the patron and collector Bartolomé March. The garden's landscape was created by Russell Page and Leandro Silva Delgado.
Take advantage to go on an excursion to the castle of Capdepera. Built by King James II at the beginning of the 14th century, it is protected by an imposing Gothic wall.
With Roig's taxi rental services, you and your companions can access these privileged spaces in a comfortable and fast way. And if you prefer, check out our taxi trips in Majorca.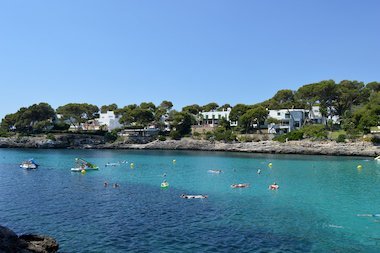 Discover our advantages
If you are planning to travel to Majorca and you are looking for a taxi company, then you are in the right place. Discover the benefits of choosing one of our options:
• We renew our fleet every season. Safety and comfort are two aspects which are very important to us. For this reason, we offer you cars which are renewed year after year, with the best brands and the latest technology, so that your journeys by road are even more comfortable.
• Taxi transfers all over Majorca. We are fully aware that Majorca is perfect for losing yourself in. Whether that be in a secluded cove surrounded by cliffs or on the footpaths crossing the Sierra de Llevant, which are perfect for cycling through Majorca. Any corner of the island will give you the perfect alibi for an unforgettable weekend getaway. This is the reason why we offer you transfers throughout Majorca. Just let us know what you need and we will take care of everything else.
• Payment via credit card or bank transfer. We want to make things easy for you, so that during your stay in Majorca you only have to worry about enjoying yourself. With us, you decide if you want to pay by credit card or by bank transfer.
• Free cancelation of your booking. We all suffer setbacks from time to time, or simply change our minds and plans. If you find yourself in this situation, you can cancel your reservation without any fees or charges.
• Experts in comprehensive transport since 1953. We are not only the leading passenger road transport company in Majorca. We also guarantee a service of the highest quality, so that your holidays in the Balearic Islands be truly unique.
Discover
Mallorca
Plan your trip around Mallorca with our interactive guide. We know our island well and will be delighted to show you the best routes, beaches and scenery so you can explore the island and enjoy it as much as we do.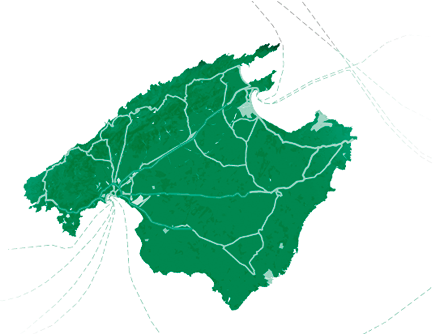 What to do in Cala Ratjada
As mentioned, the magnificent coves and beaches of Cala Ratjada are an essential visit. Walking along the promenade of the town you will reach the small Cala Gat and Sa Pedruscada, a stone beach, ideal for swimming, sunbathing or to contemplate beautiful fishermen's houses. You can also easily access the sandy Cala Son Moll.
We could not forget Cala Agulla, also with white sand, surrounded by dunes and about 15 minutes' walk from the centre of Cala Ratjada (pay attention to the large number of birds that are around the place!). Going in the opposite direction towards Canyamel, is Cala de Sa Font, a highly appreciated family beach that is perfect for traveling around Majorca with children.
On the other hand, we must not lose sight of the fact that Cala Ratjada is the closest point to the island of Menorca. Hence, it is advisable to take a ferry to Ciutadella, the second city of Minorca, where you can visit the well-known Naveta des Tudons, in the outskirts of the town. In addition, it is also possible to hire boat routes in the area.
If you want to dive, nothing better than Cala Lliteres, a place frequented by those who want to practice diving in Majorca. Cala Ratjada is also a great choice to enjoy a morning of surfing, kayaking or other water sports. You can even improve your putt in one of the 4 golf courses of Cala Ratjada.
You can also go shopping in Cala Ratjada. If you like this idea, the streets of L'Agulla and Elinor Servera are the two main commercial arteries. And that's not all: on Saturdays, you'll find the market of Cala Ratjada, open from 08:00 am to 1:00 pm, suitable for buying food, clothing and much more.
Finally, remember that if you need a transfer from Palma airport to Cala Ratjada, you can choose our rent a car in Majorca or Cala Ratjada taxi services by Roig to reach another location, at the best price and with the guarantee of the leading transport company in the Balearic Islands, with more than 65 years of experience. You will repeat!