DestacadoflotaTransfer2022EN
ProtocolosdeHigieneyLimpieza_2600x762EN
Cancelaciongratuita_2600x762EN
Bus service in Palma de Mallorca
If you visit the island with a large group of people that prevents you from enjoying our car hire service in Mallorca, in Roig we have the solution for you. The bus rental service in Palma de Mallorca allows groups of between 14 and 80 people to travel together on your transfer from Palma airport to your hotel in Palma, to arrive at an event at the appointed time or to discover the charms of the Island on an unforgettable excursion.
The comforts of booking a bus with us are multiple. You not only have the option of booking directly from our website or by phone, but you can cancel for free if there is any unforeseen occurrence, without additional costs. Moreover, our entire fleet is adapted for elderly passengers and those with functional diversity.
Our bus in Palma de Mallorca can pick you up directly at the airport, so you can start enjoying your trip from the first minute, whether you visit us for a wedding, a sales convention or a stag/hen party. With Roig, the bus rental service in Palma de Mallorca carries the guarantee of confidence seal. Hop on and check it out.
What to see in Palma de Mallorca
As the capital of the Balearic Islands, Palma de Mallorca has many things to see. One of the most beautiful postcards in the city is the cathedral, built in Gothic style and with the largest rosette in Europe. In this area, you can also discover the streets of the old town, where there are some medieval courtyards of amazing beauty. Walk along Paseo del Born and avinguda Jaime III to feel like Jaime I himself. In this area it is also advisable to visit the Es Baluard Museum and the Royal Palace of Almudaina. In this neighbourhood you should also visit the Lonja, a building with impressive architecture.
For lunch, one of the best areas is the fishing district of Santa Catalina, which has a market with the freshest products and a wide variety of stalls to taste them. Feel like a local, wandering the streets and visiting the beautiful shops that you will find.
In the afternoon you can visit the Bellver Castle, a must-see monument due to its curious circular layout and the magnificent views you will have of Mallorca and its coast. Finish off with a drink in the Olympic Port for a perfect day in Palma.
But you do not have to stay in the capital, with your bus rental in Palma de Mallorca you can go to any destination on the island. We especially recommend a visit to the Caves of Drach, which consist of almost 2 km of caves and a sailable lake.
In addition, your stay in Mallorca would not be complete without a tour of the best coves and beaches. One of the essentials to dive into the crystal-clear waters of the island is Cala Mitjana, of complicated access, but with one of the most beautiful natural environments. Another essential place to sunbathe is Cala Mondragó, located in the middle of a natural reserve and with shallow waters. If you visit this cove, you can experience what it is to bathe in a postcard environment. On the other hand, if you want kilometres of beach to run and play in the sand with your family, we recommend the beach of Es Trenc, the last big beach on the island that remains undeveloped.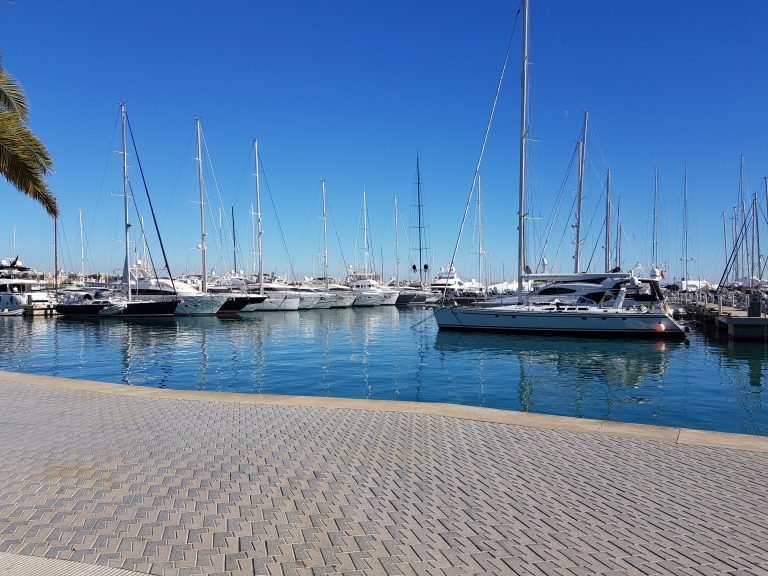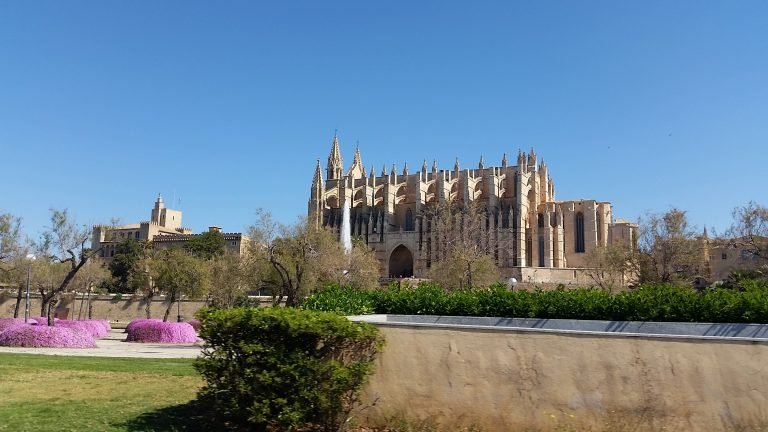 Advantages of renting coaches and mini-buses in Majorca with us
There are many reasons why we recommend hiring buses in Majorca with our company. Take a look!
• A large fleet of coaches. Are you looking for an efficient group transport solution? If you trust our team, you won't need to worry about the size of your group as we have vehicles between 14 (minibuses) and 80 seats. Book the one that best suits you, from a minibus to more spacious vehicles.
• Enjoy a constantly renewed fleet. Your comfort and safety comes first. Therefore, we offer you the most modern coaches on the market, with the latest technology and all the comforts you need for long road trips.
• Maximum security. In addition to having the latest mechanical and technological advances, we conduct periodic checks on all vehicles.
• The best luxury coaches. Although we guarantee maximum comfort, if you are looking for something really special, be it for a business meeting, a wedding or any other outstanding event, then there is nothing better than our VIP coaches.

• We deliver your coach upon your arrival in Palma. We want you to make the most of your getaway to Majorca. Therefore, if you wish, we will be waiting for you at Palma airport to take you to your vehicle. It's as simple as that!
• Free cancelation of your booking. So, in case of an unforeseen circumstances or a change of plans don't ruin your holiday, if you need to cancel your reservation, we won't charge you any cancelation fees. We only ask you to let us know as soon as possible.
• Adapted buses. We offer passenger transport solutions for everybody. If you want to book a bus adapted for people with reduced mobility or older passengers, just let us know.
• Personalized service. Our individual welcome and professional customer service is one of the factors that sets us apart. Get in touch with us and explain what you need. We will offer you the highest quality option that best suits your needs and your budget.
• Experts in transporting visitors since 1953. We are not only the leading road transport company in Mallorca: we also guarantee the highest quality vehicles and services, so that your holidays in the Balearic Islands are simply unbeatable
Discover
Mallorca
Plan your trip around Mallorca with our interactive guide. We know our island well and will be delighted to show you the best routes, beaches and scenery so you can explore the island and enjoy it as much as we do.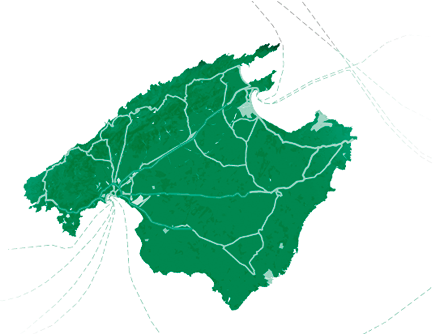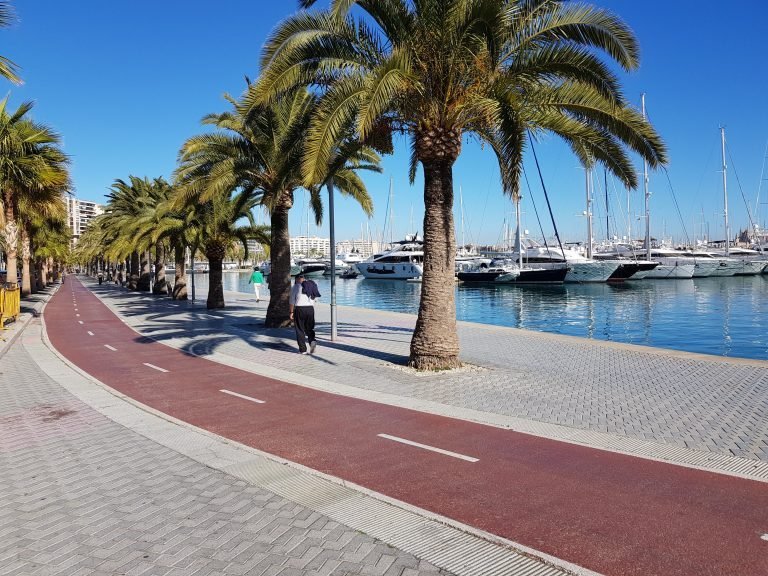 What to do in Palma de Mallorca
The variety of plans offered by the island of Mallorca is endless, whether you are here on a convention and want to disconnect for a while, party with a group of friends or relax on holiday with your family.
Visit the Jardí de S'Hort del Rei, a wonderful park designed with typical elements of the region and Andalusian airs. In addition to relaxing in one of its corners, in spring and summer you will also find the crafts market, where you can take home a truly unique handmade souvenir. Another market that you should visit at any time of the year is L'Olivar, which since 1951 sells the freshest products in the area. In the upper part of the market you will find a cooking school that offers live shows from time to time, as well as bars and restaurants where you can taste the best ingredients on the market.
Another recommended activity is to go up to Na Burguesa, a mountain located in Calvià from where you will have magnificent views of the city. Specifically, you must go to the N'Alzamora viewpoint, where you will find a refuge. Another stop that is worthwhile is the Miró Mallorca Foundation, located in the complex where the Catalan artist had his painting studio. Here you will find more than 7,000 pieces by Joan Miró, including paintings, drawings, sculptures, objects and graphic works.
If you travel with small children, a good option is to go from Palma de Mallorca towards Sóller in its old tram, which reaches the center of this picturesque town. This journey will be an experience in its own for kids.
In addition, if you do not want to worry about transportation, Roig's bus services in Palma also offer you a series of organized trips around Mallorca. For example, what about an evening in style with the best dancers on the island? Visit the Son Amar mansion to experience it live. On the other hand, if you do not have many days and want to see the best that Mallorca can offer, we recommend our round trip of the island, which includes the beach of Sa Calobra or the Port de Sóller.
Whatever the reason for your visit, the bus rental service in Palma de Mallorca is the solution you need to get from the airport to your hotel and the perfect option to transfer large groups of people throughout the island. Book and check it out yourself!